Hey Y'all…It's only 3:19 AM–as in IN THE MORNING–and I've counted sheep, redesigned my bedroom, solved 98% of the worlds problems, rolled over approximately 37 times and watched those two little red flashing dots between the hour and minutes on the clock for three hours and still no sleep to be found. I decided to get up before I wore a hole in my sheets from turning over one more time.  I've started a load of laundry, folded one load that has served its time in the dryer for about three days, have supper started in the crock pot, and I'm going to make some brownies as soon as I finish writing. So nanny nanny boo boo to all you cuddled up sleeping snug as a bug in a rug, and that's all I have to say about that.
Well, Santa has come and gone and took that blessed elf back to the North Pole with him, hallelujah, can I get an Amen?! Don't get me wrong, I love Ellie Mae and all her antics and the smile she brings to Kennedy's face every morning–well almost every morning cause sometimes she forgets to relocate her intangible self–but sweet mercy, finding something new for her to do for a month will just about make you want to touch the elf and brag about it to your kid! (this pic describes things perfectly)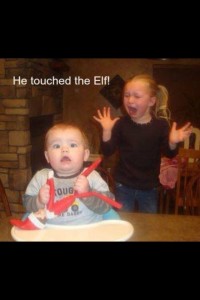 Yes, I know Pinterest is slam full of the most spectacular ideas on planet Earth but let's be honest, when you wake up out of a dead sleep at 4 o'clock in the morning and realize the elf hasn't started a marshmallow fight with Barbie while hiding behind a pink Lego barricade with a tutu and sunglasses on, poking her little sweet face out of the Christmas tree for the third time will just have to do!
Christmas week went by so fast to me. Kennedy had the opportunity to go to Frozen on Ice on Sunday evening with a friend of hers and she had a great time. We left early Monday morning and headed to Charlotte and took Ken to the new American Girl store at the Southpark Mall. It was a complete surprise and she was speechless when she realized where we were. She needed approximately $3, 276.51 to get what she wanted however I was able to whittle her down to a clearance outfit that was $14.95 because Santa had already wrapped up some costly merchandise that was nestled beneath the tree.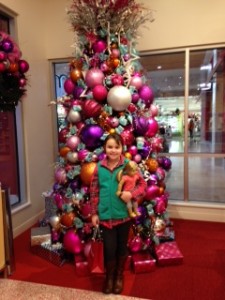 She was satisfied and all was well until we realized a few hours later that Isabelle had lost her newly purchased black sparkly headband with a bow that matched her outfit perfectly and not another existed anywhere on Planet Earth! Let me just tell you, I was NOT, I repeat NOT going back in that mall to look for that headband. If you have ever been to the Southpark Mall in Charlotte then you are fully aware of why I stood my ground. If you haven't been just let me say that you would be charged international roaming charges on your cell phone bill if you were in the Louis Vuitton and I was in Neiman Marcus and you called me, plus it was three days before Christmas and everybody and their cousin was trying to find the perfect last minute stocking stuffer. Y'all, I'm serious, that place is huge and it has some of the most high end stores in it, I was just starstruck. You have to remember that I'm originally from the sticks in Florida and then I moved to the twigs in North Carolina. Seeing all these stores and the price tags made me feel about as out of place as a parachute on a submarine. That's a whole different post entirely… Anyway, we had a great time and that night we stumbled upon the Speedway Christmas Light show at Charlotte Motor Speedway and it was fantastic! I highly recommend you going next year if you're close by. We came back home Tuesday, celebrated an ages long tradition of Christmas Eve with the extended Carroll family, had breakfast and opened presents with Timmy's folks on Thursday morning and retreated back to the abode to indulge in candy from stockings, leftovers and Christmas movies. We were blessed!
I hope Christmas was more than lights and $5.oo wrapping paper and elf antics and fruitcake for you. I hope you stopped long enough to ponder on the true meaning of the holiday and the priceless wrapping of the manger miracle that was born long ago on a cold winter's night.
Blessings
Sasha <><